No one can do everything, but together we can make a difference
6 Oktober 2022
"Our goal this year is to raise over 1 600 000 Swedish Kronor (SEK)" says Kjell-Erik Åström, Sales and Marketing Manager at Olofsfors.
This year's fundraising for the Swedish Breast Cancer Association is already on going and in connection with Olofsfors' open house and the 260th anniversary, the visitors raised almost 6,000 SEK. This money that goes to breast cancer research, cancer patients, survivors, and their relatives through Olofsfors fundraising at the Swedish Breast Cancer Association.
Close to 50 people contributed almost 6000 SEK during our open house, and "Pink October", and our official fundraising had not started," says Maria Öhman, Marketing Manager at Olofsfors AB. "No one can do everything, but together we can make a difference."

Since 2010 companies in the forest industry, through the Pink Ribbon fundraiser that Olofsfors created on the Breast Cancer Association website, contributed a total of 1 367 000 SEK to cancer research.

"If we can raise 233 000 SEK this year, we will be really satisfied, " says Kjell-Erik Åström, Sales and Marketing Manager for Olofsfors forest products. "If we succeed, we are up to a total collection of 1 600 000 SEK, which would also be a new record for a single year. It would be nice if the money goes to a heartfelt and important cause."


Breast cancer in numbers
"Every hour a woman receives a breast cancer diagnosis, a diagnosis that also affects family and loved ones. The great commitment Olofsfors has shown over several years is important in the fight against breast cancer. Thanks to this effort, we can fund patient-centered breast cancer research and provide support to those affected. It means a lot to many", says Marit Jenset, Secretary General of the Breast Cancer Association.

About 8000 women and 60 men in Sweden get breast cancer every year. Early detection saves lives. Knowledge saves lives. (Source: Breast Cancer Association, © 2022).


Small or large coin does not matter. Together we make a difference.

Olofsfors has created its own fundraising page on the Breast Cancer Association main site where everyone can donate any amount. They have also donated a pink forest machine track to the Breast Cancer Association, which after completion of the fundraiser, will be given to a person or a company that donated a gift of 5000 SEK or more.

"More than 1100 people visited us at the end of this September, when the company celebrated its 260th anniversary. We let the visitors donate any amount and for that they each received a pink cap as a symbol for International Breast Cancer Month and Olofsfors' commitment. We hope that more people will pay attention to our collection and want to contribute. All sums count", concludes Maria Öhman
About the fundraiser:
To read more about how to donate money through Olofsfors "Pink Ribbon" Track fundraiser, go to www.olofsfors.com/pinkribbon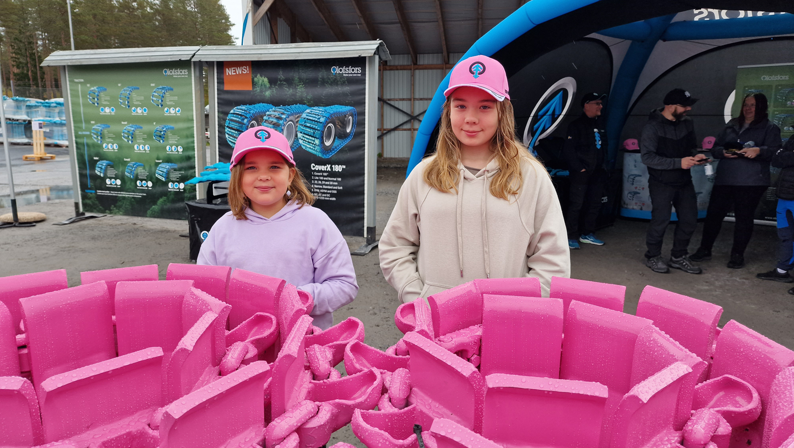 Elin and Emma, at the Olofsfors open house and 260th anniversary at the end of September, who contributed in Olofsfors fundraising for the Breast Cancer Association.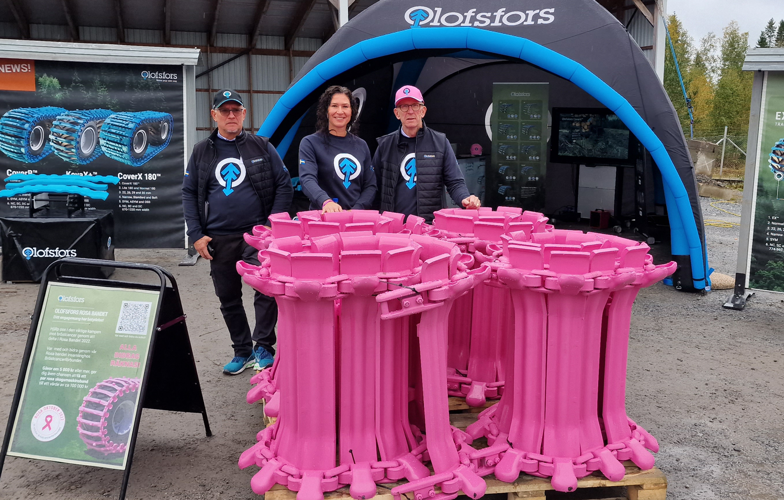 Kjell-Erik Åström, Maria Öhman and Micael Olsson from Olofsfors, with the Pink Ribbon Forest Track, at Olofsfors' open house and 260th anniversary.


For questions or more information, please contact:

Kjell-Erik Åström
Sales- and Marketing Manager, Forest business area
Phone: +46 (70)0-323 97 10
E-mail: kjell-erik.astrom@olofsfors.se
Maria Öhman
Marketing Manager
Phone: +46 (0)930-397 01
E-mail: maria.ohman@olofsfors.se
Olofsfors AB has about 150 employees, and the company work with sales and manufacturing in two business areas: Tracks and Chains for forest machines and wear steel for construction machinery. Customers are found in almost every continent. The head office is in Olofsfors, in the municipality of Nordmaling and production also takes place here. The company has a turnover of approximately 500 million SEK.
Olofsfors' core values ​​are Knowledge, Quality and Sustainability.
Olofsfors AB – Hauptbüro
Telefon: +46 (0) 930-396 00
E-Mail: info@olofsfors.se
Adresse: Olofsfors AB – Hauptbüro
Olofsfors 11
SE-914 91 Nordmaling, Schweden, SE
Landkarte
Nehmen Sie Kontakt auf